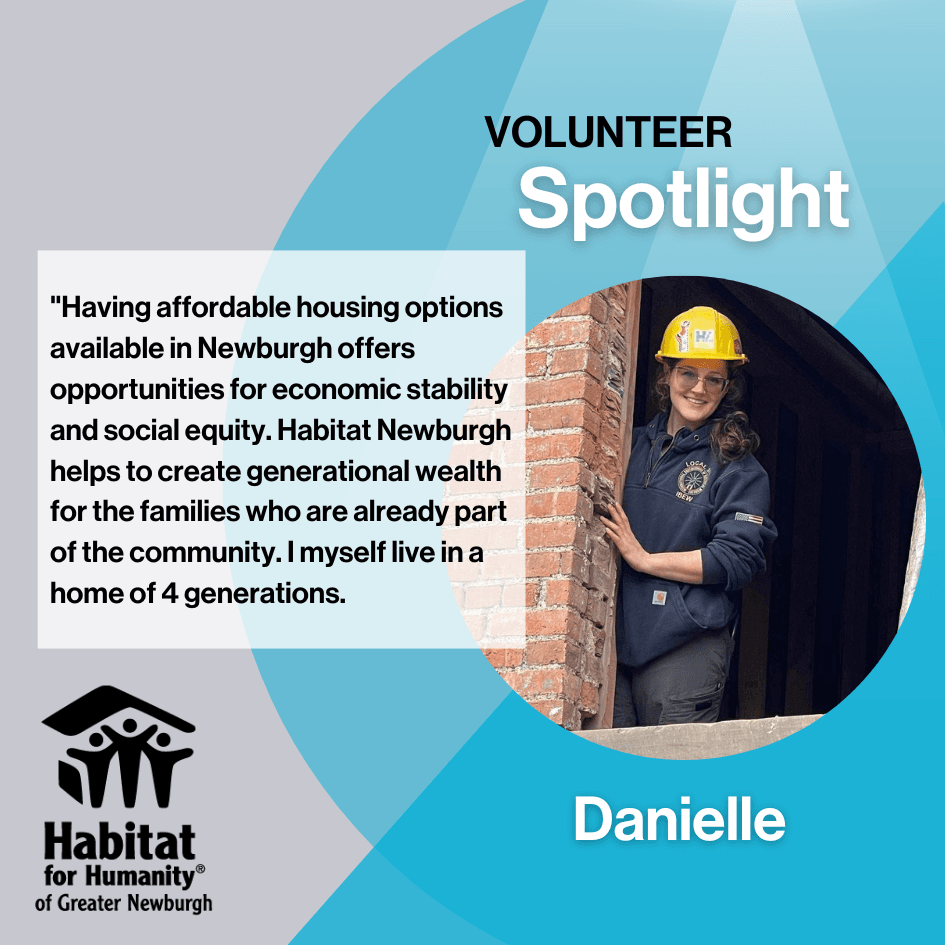 This month's Volunteer Spotlight focuses on Danielle, our Board Member and a woman who works in construction. Danielle is a proud volunteer participating in our annual Women Build Week and its mission to encourage more women to seek opportunities in the construction workforce.

1) What brought you to Habitat Newburgh as a volunteer?
I started volunteering for Habitat Newburgh during my apprenticeship with IBEW LU 363 about 8 years ago. The opportunity for the union to be involved is beneficial to both the apprentices, to help gain residential experience, and to the community, giving back to where we also work and live. We are proud to represent the labor that goes into the homes. I continue to volunteer on-site, mostly electrical. I also have had the pleasure of joining the board and working with the volunteer committee.

2) Why is housing important to you and why is it needed in the City of Newburgh?
Housing is a basic human need. It provides a space to feel safe and grow roots. Comfort and security for individuals and families are essential for reaching their full potential. More housing is needed in the City of Newburgh simply because of that need. Folks want to live here! Having affordable housing options available in Newburgh offers opportunities for economic stability and social equity. Habitat Newburgh helps to create generational wealth for the families who are already part of the community. I myself live in a home of 4 generations. It is an honor to grow up where my grandmother raised my father and make my own memories as I watch my niece grow. Also, I love my garden. It's home.

3) Name 2 things you love about Newburgh.
For me, it's Newburgh. It's where my family is, where I made my first friends and went to school. I always loved Newburgh for its diversity and vibrancy and how the community moves toward growth and revitalization. I hope to stay in Newburgh to raise a family of my own.

4) What has been one of your favorite memories while volunteering?
I love attending the key ceremonies for the families. Filled with emotions and love and pride for a home they can call their own, each family has touched my heart deeply and I'm so elated to witness their success and happiness.

5) Why should others volunteer for Habitat Newburgh?
Habitat Newburgh is a great option for locals who want to get involved in the community and work with those who share a passion for giving back. The organization is truly a family and always looking for more volunteers to join.

6) What makes working in Women Build different from working on typical job sites? What would you say to other women who are considering volunteering and how would you encourage them?
The women of Habitat Newburgh are the heart and glue of the organization. I feel so incredibly inspired by the ladies who have come before me. They teach me something every time I volunteer. Apart from strong community support, women who enjoy hands-on work and learning new skills could find volunteering quite fulfilling.

All of the houses that come out of Habitat Newburgh are so special but there's something so energetic and empowering about Women Build. The focus is to make the workplace inclusive of all gender identities and encourage support to everyone who volunteers. For me, it's also special to honor the women to whom the houses are dedicated as it makes me feel more passionate and connected to the project.

As a woman in construction, I know I could not be where I am without the trailblazers before me, challenging the inequalities and discrimination that women and other marginalized genders face in society. There's still much work to be done so for me, it's important to show up and to take up the space that was made for me. I encourage others to volunteer because there is room for everyone to thrive and invest in the place I've always called home.