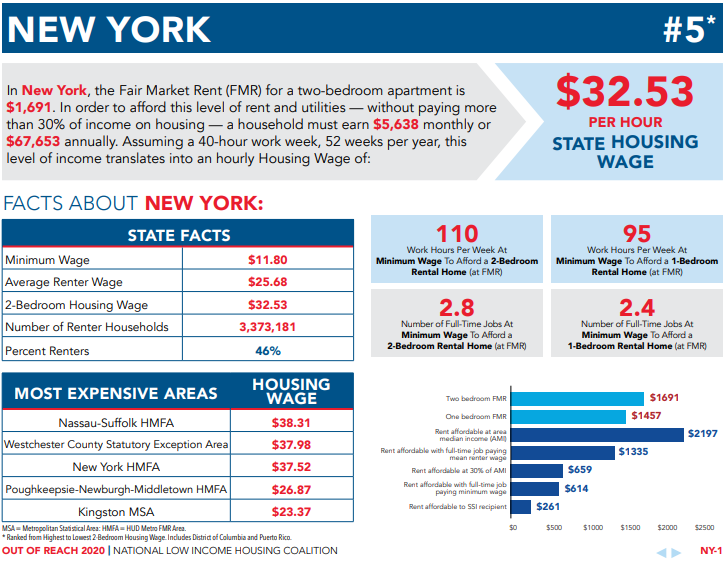 Do you know how much a person needs to earn hourly to afford rental homes here in New York State?
According to the National Low Income Housing Coalition, New York State has the 5th HIGHEST housing wage at $32.53/hour required to afford a 2 bedroom rental home. In addition, you would need to work 110 hours per week to afford a 2 bedroom rental home if you are earning the state's minimum wage. It would require 95 hours of work per week to afford a 1 bedroom rental home in NYS with a minimum wage income.
"Across New York, there is a shortage of rental homes affordable and available to extremely low-income households (ELI), whose incomes are at or below the poverty guideline or 30% of their area median income (AMI). Many of these households are severely cost-burdened, spending more than half of their income on housing. Severely cost-burdened poor households are more likely than other renters to sacrifice other necessities like healthy food and healthcare to pay the rent, and to experience unstable housing situations like evictions."-NLIHC

See link here to find hourly wages needed to afford a two-bedroom apartment in the United States in 2020, by state:

https://reports.nlihc.org/sites/default/files/oor/files/reports/state/NY-2020-OOR.pdf

State facts: https://reports.nlihc.org/oor/new-york

Habitat for Humanity of Greater Newburgh is working to ensure housing is affordable. We construct and rehabilitate houses and sell them to low-income families for an affordable amount. Our family's mortgage principal, interest, taxes, and insurance payments do not exceed 30% of their income, ensuring they are not forced to choose between paying their mortgage and buying other necessities like food or medication. 
#costofhome #affordablehousing #habitatforhumanity