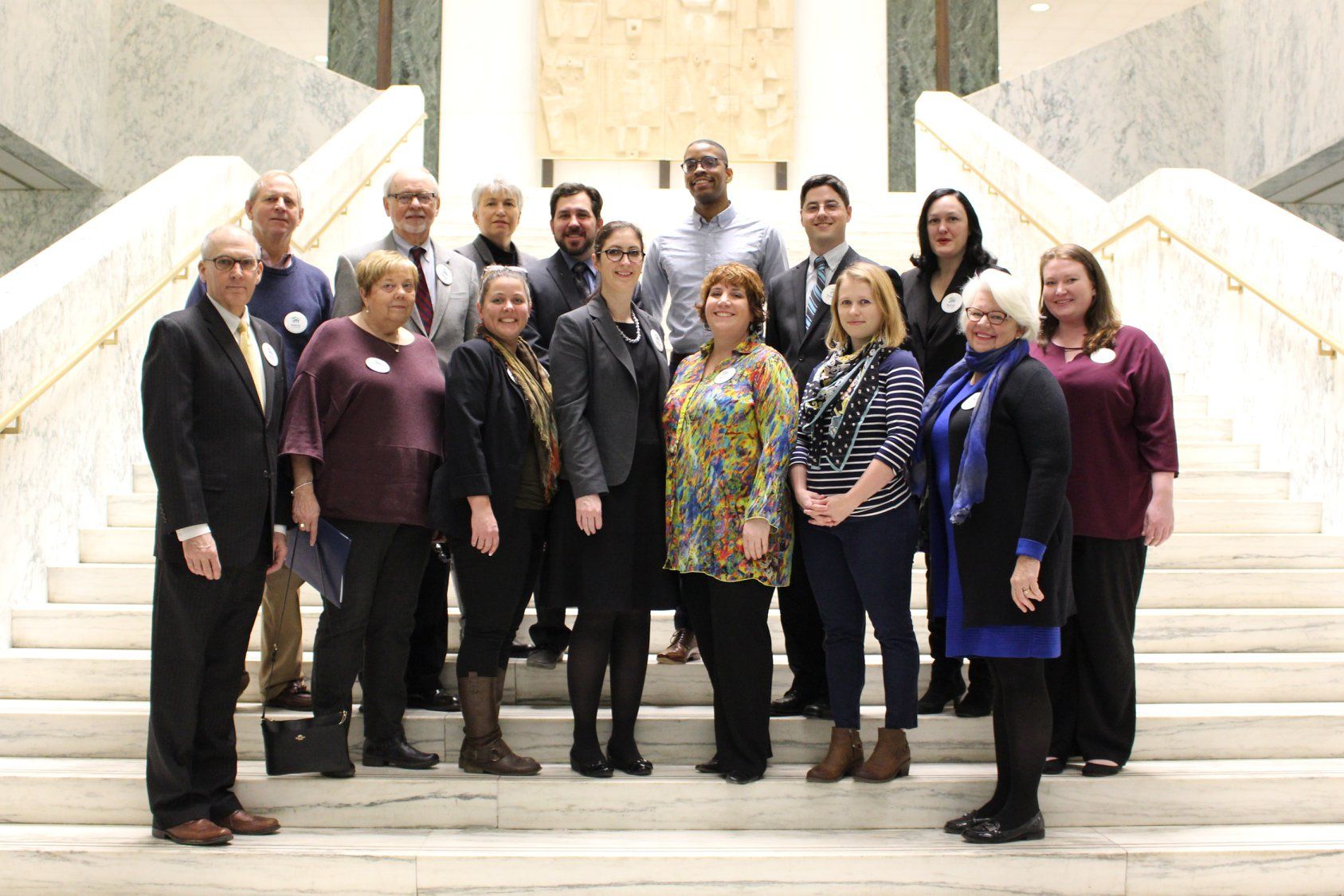 Habitat Newburgh joined affiliates from across New York to speak to our state lawmakers about legislation that impacts our ability to help families achieve strength, stability, and self-reliance through affordable homeownership. Here is a rundown of the current issues that New York Habitat for Humanity is advocating about. As a volunteer, a supporter, a resident, and a voter, put your weight behind this legislative agenda and help Habitat build by using your voice!
ISSUE #1—Funding for Affordable Homeownership
The Affordable Housing Corporation, or AHC, is the sole source of state funding for affordable homeownership. This funding is crucial to Habitat Newburgh and our sister affiliates building affordable homeownership opportunities with hard-working low-income families across New York.
The AHC was created in 1985, and while construction costs have increased substantially over the past 30 years, the overall appropriation and the per unit funding cap have remained stagnant.
In Newburgh and in other cities and towns across NY, lead and asbestos abatement costs are often so high that they prohibit development. While regulation of lead and asbestos has increased, there is no funding source available for organizations such as Habitat to take on these high cost projects that present a health risk to the community when left vacant.
Habitat Newburgh has used AHC grants to help build 37 houses, and has 6 more projects on the application for the next round of AHC funding.
The equivalent funding source for affordable rentals in NYS, the Housing Trust Fund, has seen increases in both overall appropriations and per unit funding.
Homeownership is a key component of strong and stable communities and access to homeownership is transformational to the families who are able to achieve it in partnership with Habitat for Humanity.
OUR ASK:  Ask your Assemblyman to co-sponsor A.6494 (Walker). Ask your Senator to co-sponsor S.7063 (Bailey). Increase AHC funding cap from $40,000 to $110,000 per unit, Increase overall AHC funding from current $25 million to some parity with Housing Trust Fund appropriation (currently at $45 million). When there is an investment by the AHC that is over $40,000, additional permanent affordability restrictions will be put in place to ensure that the house will make affordable homeownership possible for many generations to come.
ISSUE #2—Fair Taxes for Permanently Affordable Homes
Some houses have restrictions on their resale designed to make the home permanently affordable, which effectively limit the resale value of the home. Currently, these homes are being taxed at fair market value, even though the homeowner could never sell the home for that much. As a result, owners of permanently affordable homes are paying unfair and extremely high taxes.
As an example, a permanently affordable home may have a fair market value of $200,000, but because it can only be resold to a low-income purchaser, it cannot be sold for more than $100,000. Under current tax law, the house would be assessed and taxed at $200,000, even though the homeowner could never sell the house at that value.
High property taxes are a burden for Habitat homeowners that make it increasingly difficult for Habitat for Humanity affiliates to create viable affordable housing. With the creation of a tax exemption for permanently affordable homes, we could potentially find new ways to protect our homeowners and decrease their tax burden.
OUR ASK: Amend the 420–a and 422 Non-Profit Tax Exemptions to include land owned by Community Land Trusts for the purpose of preserving permanently affordable housing and limiting the tax burden for these resale restricted homes.
ISSUE #3—Scaffold Law Reform
A centuries old law that exists only in New York, protected by special interest groups, leads to the highest insurance costs for construction in the Unites States. This law holds contractors and property owners 100% liable in a lawsuit for gravity-related injuries, even if the contractors were not primarily at fault. Absolute liability means that the contributing fault of an injured worker, such as failure to use provided safety equipment or gross negligence, is virtually irrelevant in court.
The Scaffold Law has driven insurance losses through the roof, resulting in higher premiums, more coverage exemptions and fewer carriers in the market.  It does not make anyone safer, and it hurts everyone's ability to build homes and communities for low income families in New York.
While Habitat for Humanity affiliates in New York are currently insured as part of a national pool of all Habitat affilaites in the US, if our insurer were to decide that the cost of insuring New York affiliates was no longer worth the cost, Habitat Newburgh and all other NY Habitats would likely cease to exist.
As it stands, this law alone adds an addtional $10,000 per house in cost.
Studies have shown that accident rates decrease in states that repeal similar laws.
OUR ASK: Ask your Assemblyman to support A.5624 (McDonald). Ask your Senator to support S.6876 (Akshar). Habitat for Humanity is part of a coalition seeking to reform the current absolute liability standard to a comparative negligence standard in the Scaffold Law. This would create liability proportionate to fault, the same way it is done in every other state, with every other injury type in New York, and in every other aspect of our civil justice system.
WE NEED YOU! Make your voice heard and call and write your state representatives to share your passion for Habitat's work and ask them to support these issues.
Senator William Larkin
larkin@nysenate.gov
(518) 455-2770
Assemblyman Frank Skartados
skartadosf@assembly.state.ny.us
(518) 455-5762