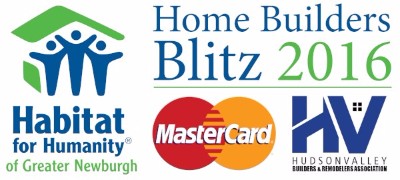 What is a Home Builders Blitz?
Habitat for Humanity's National Home Builders Blitz began in Wake County, NC in 2002 when 12 professional home builders built 12 homes in 5 days, donating labor and materials, for a total cost of only $84,000 (not including land).
This local idea became a successful national initiative in June 2006, when affiliates across the country, including Habitat Newburgh, participated in the first nation-wide Home Builders Blitz week. Habitat Newburgh partnered with the Hudson Valley Builders and Remodelers (formerly Builders Association of the Hudson Valley) to build 2 houses in just one week. With the tremendous success of the first Blitz, local building industry professionals joined together again in 2008, 2012, & 2014, building a total of 8 Home Builders Blitz homes in Newburgh. The 2016 Home Builders Blitz tackled a new pilot project for Habitat for Humanity–our first Live/Work building a three-story mixed-use house in just 5 days.
Interested in being part of this miracle of building in 2018 contact our Fund Development Manager.
Home Builders Blitz Houses
123 Washington St. (Live/Work House), June 6 - June 10, 2016
26 | 28 E. Parmenter St., June 9 - June 13, 2014
45 | 47 Chambers Street, June 4 - June 8, 2012
208 | 210 Dubois St., June 2 - June 6, 2008
77 | 81 Monument St., June 5 - June 9, 2006
2016 PLATINUM SPONSORS
Orange County Office of Community Development

Hudson Valley Contracting Group

Petro Plumbing & Heating
2016 GOLD SPONSORS
Calculated Fire Protection

Perfect Comfort

Safe & Sound

Strawridge Rock & Tape
2016 SILVER SPONSORS
Arzee Roofing

Integrity Drywall

JVC Insulation Contractors

Tilcon NY

Warren Landscaping