 Irene Shafer*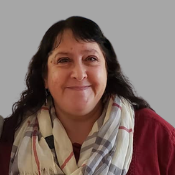 A native of Newburgh, Irene has lived all over the fair state New York: in Potsdam and Geneseo during her college years for a degree in musical studies; in Fishkill while she was working for IBM and NXP Semiconductors; in idyllic little Otego on the banks of the Susquehanna; and currently in Bloomingburg, another tiny, beautiful town. She is excited for her Newburgh homecoming, excited to be a part of the staff at Habitat in Newburgh, and grateful for this opportunity to give back to the community and the city that was home not just to so much of her family's history, but also so much of this area and this country's history.
Irene enjoys writing, crocheting, gardening, making glass mosaics, and covering random things with chocolate. (Graham crackers, Oreos, pretzels, bacon, potato chips, pretty much anything…)  
subscribe to our newsletter
Click the link below to sign up to receive our newsletter.