Every donation, every purchase helps Habitat for Humanity of Greater Newburgh
serve families - building homes, communities and hope!  
We are now accepting drop off donations by appointment only! 
To schedule your donation drop off:
email or call
(845) 565-1789 x142
Please note in your email what day/time you prefer.
We will do our best to accomodate your schedule!
.
Drop off hours Tues through Sat 10am-12 noon and  2pm-4pm
Please drive around the left side of our building to the 2nd loading dock.
 
Below is a list of items we can/cannot accept.
Please make sure donations are clean and in new or gently used condition.
If you require a donation receipt for your dropped off items:
Our loading dock is under 24 hour surveillance, please do not leave donations on the
loading dock after store hours or if no one is available to assist you!
What Can I Donate?
Furniture
Dressers, night stands, end tables, coffee tables, kitchen and dining tables, buffets, bookshelves, desks, and drafting tables
Upholstered furniture - sofas, recliners, love seats, ottomans, etc.  Must be in gently used to new condition - NO rips, stains, tears, smoking/pet odors or pet damage.  We do not accept sleeper sofas.
Appliances
Refrigerators, freezers, cook tops, microwaves, washing machines, dryers, stoves and range hoods.  Appliances must be clean and in full and complete working order.  We cannot accept appliances older than 10 years.
New air conditioners/dehumidifiers
Kitchen and Bath Cabinets
Kitchen cabinets and vanities in good to excellent condition
Bathroom and kitchen sinks (white or almond) - please remove all fixtures/plumbing before donating
Uncut laminate counter tops
Granite counter tops 
Home Decor/Housewares/Media
Pots, pans, dishes, glassware, knick-knacks, artwork, coffee table books, records, cds, dvds.  All items should be clean and in new or gently used condition
Table/floor lamps
Flat screen TV's (in complete working order)
Seasonal holiday decor
Small appliances - blenders, toasters, toaster ovens, mixers, etc..
Building Supplies
Interior and exterior residential light fixtures - must be in complete working order
We accept windows & doors in gently used to new condition
New/never used wood flooring and tile
New bathtubs & shower enclosures
New toilets
New in the box shower doors
New/never used kitchen/bath fixtures
Latex paint/water based stain - less than 1 year old, never opened and stored inside
Hardware and Tools
Full boxes or unopened hardware
Hand and power tools in new or good condition
Sporting Goods
We accept adult & children's bicycles
Sports equipment 
 
Items We Do Not Accept
Anything that doesn't work or is dirty, stained, chipped, or broken
College/School Text Books/adult fiction & non fiction/encyclopedias/magaizines
Pianos/Organs
Computer, fax and copy equipment
Used/broken tiles
Clothing, linens, bedding and drapes
Mattresses and box springs
Baby items, toys, playground equipment
Used Blinds or window treatments of any kind
Opened paint, stain, thinners or hazardous material of any kind
Used Shower doors, hot tub or standard tub, toilets
Unframed mirror or glass
Appliances over 10 years  old
Used dishwashers, hot water heaters, wall ovens, and faucets
Non flat screen TV's
Any type of flooring made in China (due to formaldehyde)
Furniture made with press board/MDF/chipboard
Entertainment Centers
Storm Doors or Windows
Personal safety equipment (life vests, helmets, etc.)
Treadmills or large electric exercise equipment
Office furniture
Large 2 piece china hutches
Hospital beds
Used ceiling fans
Used air conditioners
What Do We Pick Up?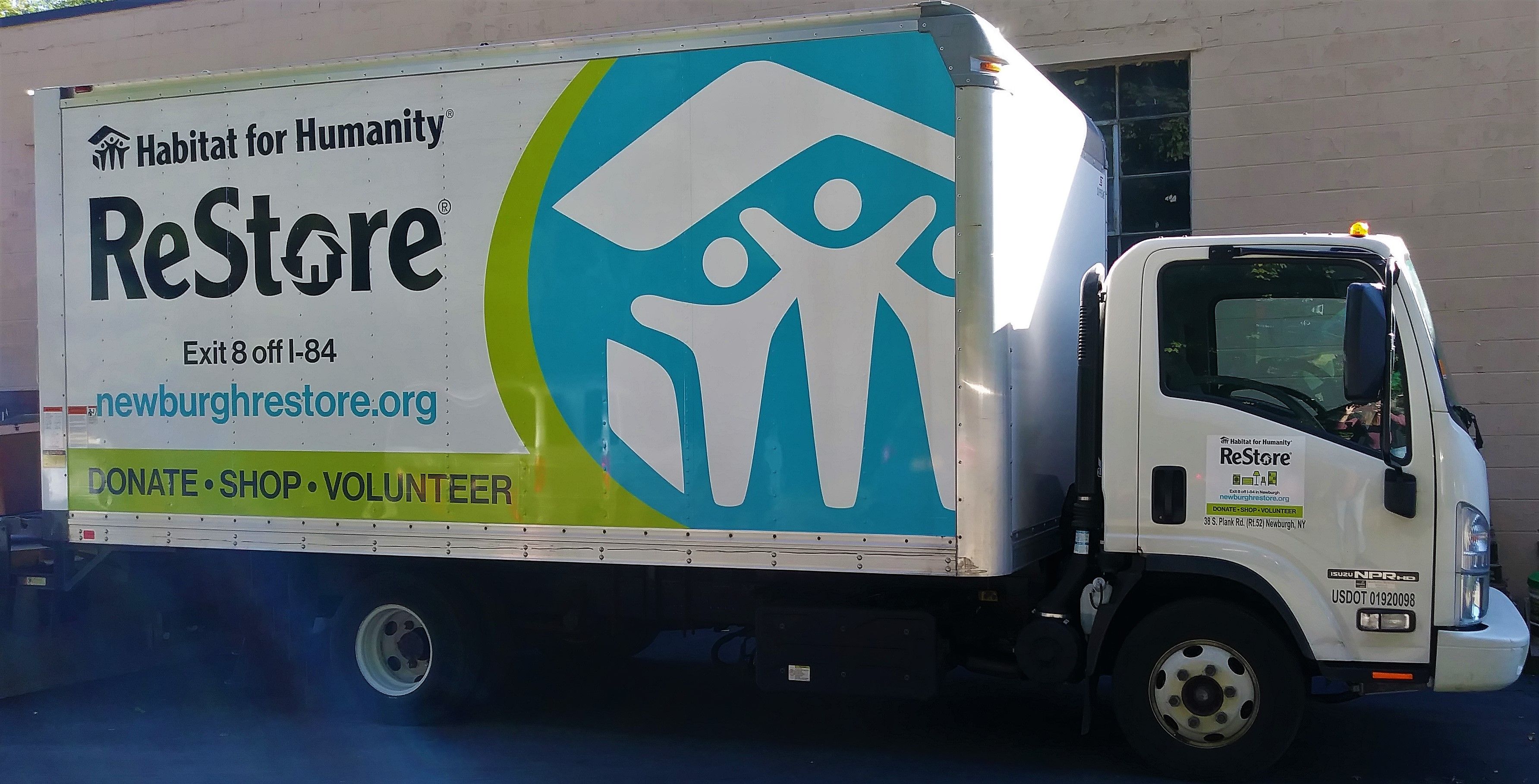 *AT THIS TIME, WE ARE NOT PICKING UP DONATIONS.  WE HOPE TO BE FULLY UP AND OPERATIONAL SOON!  PLEASE WATCH OUR SOCIAL MEDIA/WEBSITE FOR UPDATES*
We pick up all of the items on our accepted items list. However, we reserve the truck for pickups that meet the following requirements:
The items are located in a garage or out on your driveway day of pick up and are in clean, gently used condition
The items are large and require a truck to move
You have a large quantity of items
Due to the cost of transportation, the staff required, and our goal of being diligent in how we use our resources to raise funds to support Habitat's building projects, we must limit our donation pickups to items that meet these criteria.
Please email photos of the items you would like to donate - this will help expedite the process. You can send photos to restore@habitatnewburgh.org. To schedule a pickup please call (845) 565-1789, ext. 142, our Donations Coordinator is available to assist you Tues. through Fri. 7 am until 3:00 pm.  
Our Donation Ambassador reserves the right to decline any donation that might be unsuitable for the ReStore or may pose a safety risk to our donation pick up team.
The following requirements must be confirmed prior to your pick up:
We cannot take furniture apart, move items from upper floor levels, disconnect appliances, pack china/household items, remove artwork from walls.
All items to be donated must be at ground floor/garage level, all small items or breakables must be boxed, wrapped and ready to travel.
Furniture or appliances that have been stored outside will be declined.
Please ensure that your donation will fit through whatever doorway our team will be exiting from.
During inclement weather, we ask that your driveway and walkways be properly shoveled and salted.