Donate to the ReStore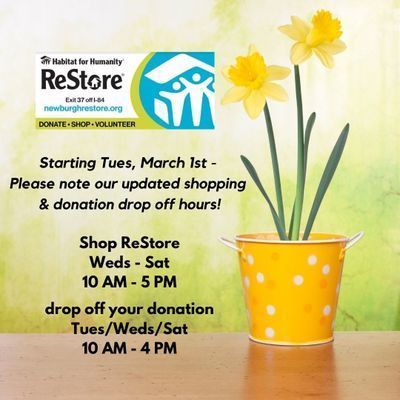 What Can I Donate?
Thank you for considering donating to our ReStore.  If you have any questions about donating please

email  

or

call us 

(dial extension 142)
We will gladly accept the following items in clean and gently used condition:
Appliances
Stoves, cooktops, ovens, ranges, microwaves, small appliances
Refrigerators
Dishwashers
Washing machines & clothes dryers
We Do Not Accept
X  Anything more than 10 years old
Bath & Plumbing
Sinks without faucets
New toilets
New shower stalls, shower bases and pans
Cabinets & Countertops
Bathroom vanities & medicine cabinets
Kitchen cabinets with hardware
Electronics
Electronics in perfect working order with HDMI connection
We Do Not Accept
X Computer monitors, DVD players
Exterior and Shower Doors
Exterior doors up to 80" tall in good condition
Brand new shower doors in box with complete track
Patio doors with frame intact and no broken
Electrical & Lighting
New or gently used ceiling lights, pendant lights, wall mount lights, exterior lights, table and floor lamps
We Do Not Accept
X Used ceiling fans
Flooring
New or gently used area rugs
Vinyl & ceramic floor tile (200 sq ft or more) of matching color and style
High quality laminate flooring (200 sq ft or more)
Hardwood flooring (200 sq ft or more)
We Do Not Accept
X Chipped or damaged flooring
Furniture
Wood furniture: tables, sideboards, bookcases, chairs with tables, sofas and chairs in gently used condition (no stains, rips, pet free and smoke free home)
Home office furniture, desks, chairs, filing cabinets
Patio & outdoor furniture
We Do Not Accept
X Entertainment centers, TV armoires, china cabinets/hutches and anything made out of MDF/particleboard
Home Decor
Antiques, collectables, crystal, candleholders, flower vases
Sets of china, glasses and/or stemware
Framed art, complete picture frames, decorative pillows (stain free/rip free)
Artificial plants & baskets
Mirrors
Framed mirrors smaller than 5 x 5
Outdoor
Outdoor furniture and lawn/garden tools
Tools & Hardware
Power tools, hand tools and metal ladders only, new unopened paint
Cabinet pulls, doorknobs, deadbolts and hinges
Windows & Coverings
Gently used residential double pane vinyl complete with jamb, like new wood casement windows
We Do Not Accept
X Custom valances, window curtains and pull string blinds
Miscellaneous
We Do Not Accept
X Clothing, shoes or baby items
What Do We Pick Up?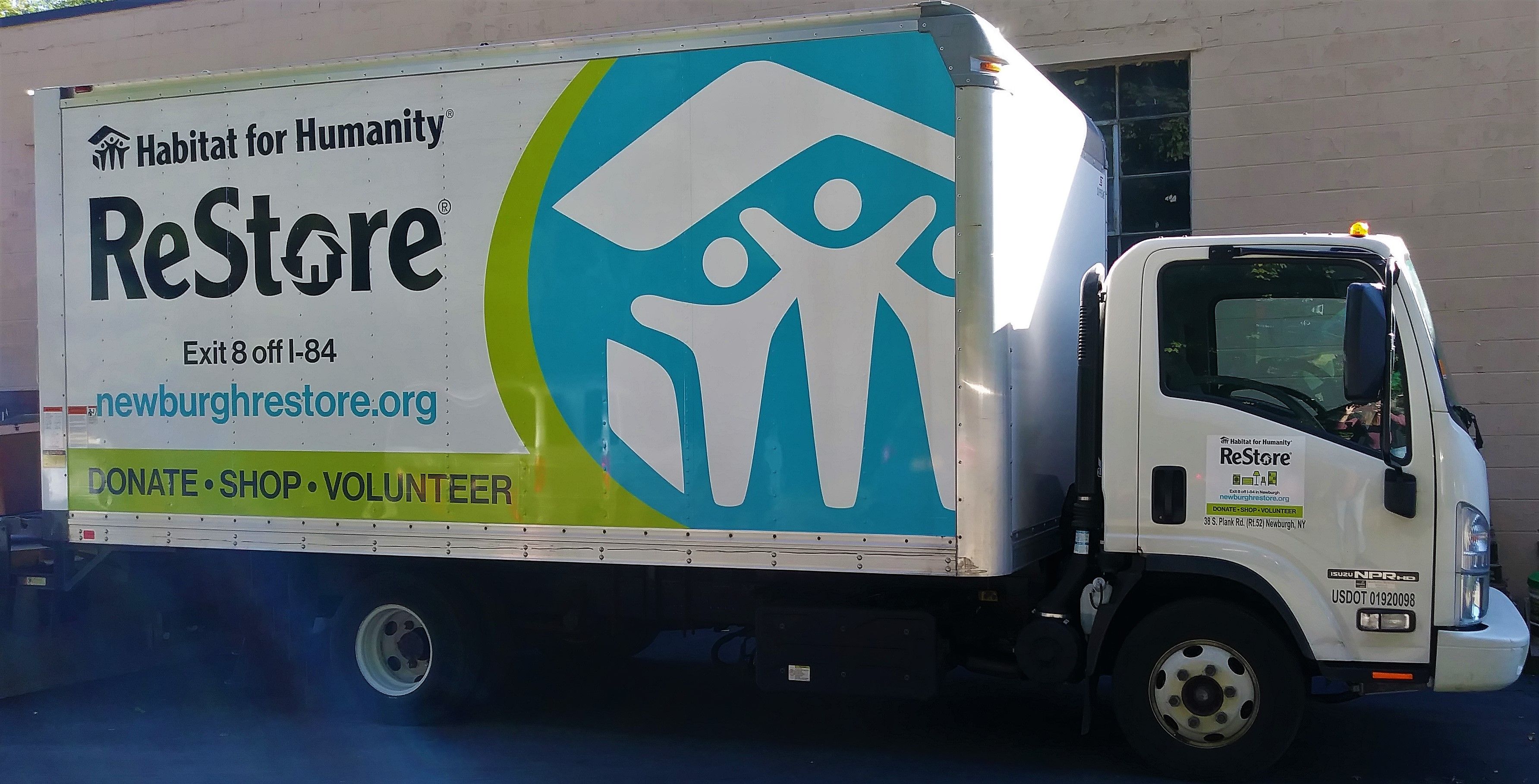 We pick up all of the items on our accepted items list. However, we reserve the truck for pickups that meet the following requirements:
You have a large quantity of items
The items are large and require a truck to move
Your are able to have your donation located in a garage or out on your driveway day of pick up 
Due to the cost of transportation, the staff required, and our goal of being diligent in how we use our resources to raise funds to support Habitat's building projects, we must limit our donation pickups to items that meet these criteria.
Please email photos of the items you would like to donate - this will help expedite the process. You can send photos to restore@habitatnewburgh.org, please include in your email your name, address and contact phone number.
Our Donation Ambassador reserves the right to decline any donation that might be unsuitable for the ReStore or may pose a safety risk to our donation pick up team.
The following must be confirmed prior to confirming your pick up:
All items to be donated must be located in your garage or out on the driveway for day of pick up - we are unable to enter your home.
Small items or breakables must be boxed, wrapped and ready to travel.
Furniture or appliances that have been stored outside will be declined.
We cannot take furniture apart, disconnect appliances, pack china/household items or remove artwork from walls.
During inclement weather, we ask that your driveway be properly shoveled and salted.
Please confirm that our 16' box truck will be able to safely navigate your driveway.
*Please note - we are unable to pick up donations in Ulster or Dutchess County.  To schedule a donation pick up in either of these counties,
please contact Ulster County Habitat ReStore or Dutchess County Habitat ReStore directly.