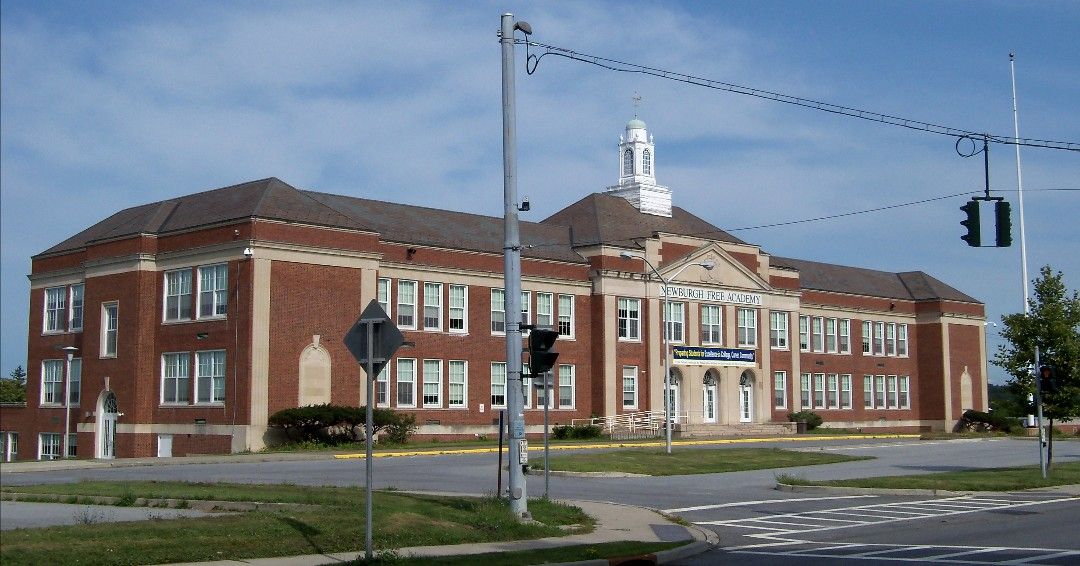 Virtual Walk Stop #14
Part 2
Newburgh Free Academy
This stop is sponsored by Moulton Memorial Baptist Church and NFA - AFJROTC
Compulsory education laws such as those of 1894, and increasing population in the city resulted in an enlarged high school enrollment. The need for a larger and more modern building was becoming increasingly evident as the country entered the 20th century. In
1926, construction began on a 7-acre lot at the corner of Fullerton Avenue and South Street for a million dollar building, which was to accommodate 1,500 students.
In the early 1960s, as the baby boomer generation reached high school age, a major addition was built on the north side of the building along Roe Street. The wing was designed to incentivizing students to enter STEM careers. Among the new features
were a planetarium, laboratories for chemistry and physics, a greenhouse, mobile animal cabinets and a climatorium for weather measurements. A dark room for photography and a TV studio were also added. The planetarium was built with a 30-foot dome visible to passersby. Beginning with the 2011–12 school year, Newburgh Free Academy extended to two campuses, utilizing the former North Junior High building, now known as NFA North Campus. The current school building becoming NFA Main Campus. In 2016, the district opened a new campus in the former West Street School, close to the two campuses. Of the new campus, which is described as a non-traditional high school providing opportunities for academic success through non-traditional approaches.
NFA is more connected to Habitat Newburgh than you may realize. In addition to NFA bringing groups of students to volunteer with us, NFA's AFJROTC has supported our Walk for Housing for years. NFA's P-TECH program has donated sustainability baskets to us. And many staff members and volunteers have graduated or even taught at NFA.