 Isaiah D. Casiano*◊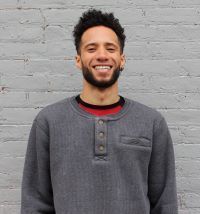 Isaiah D. Casiano was born and raised in Newburgh where he attended Newburgh Free Academy and spent most of his free time running Track & Field for the high school. After high school, Isaiah would go on to attend the University at Albany and would obtain his bachelor's degree in Psychology with a minor in History. While attending SUNY-Albany, Isaiah gained experience as a Research Assistant involved in Industrial-Organizational Psychology and as an Assistant Human Resources Director for a startup company. Isaiah would then go on to gain experience in customer service, the food industry, truck driving & numerous other endeavors until he was introduced to the AmeriCorps program affiliated with Habitat for Humanity of Greater Newburgh.
Isaiah began his relationship with Habitat for Humanity of Greater Newburgh as a Construction Crew Leader under their AmeriCorps Program back in 2019 and would finish his term in the summer of 2020. Isaiah would then return back to work for Habitat for Humanity as a Site Coordinator at the beginning of 2022. Isaiah now works as a Full-Time Project Coordinator for Habitat for Humanity of Greater Newburgh and plans to continue to grow with the organization!
"Being a Newburgh native I feel a special connection to Habitat for Humanity of Greater Newburgh because I feel like I'm making an impact and giving back to the city I was born in. When I first became affiliated with Habitat as an AmeriCorps member we were doing work on William street, which felt amazing considering the first apartment my parents brought me home to when I was born was on William St. a couple of blocks down from where we worked. It's an amazing feeling to be able to work with families in Newburgh to provide them with proper shelter and the opportunity to thrive in our area. I look forward to continuing to serve my community and help Newburgh grow while working for Habitat for Humanity of Greater Newburgh!" –Isaiah Casiano
subscribe to our newsletter
Click the link below to sign up to receive our newsletter.