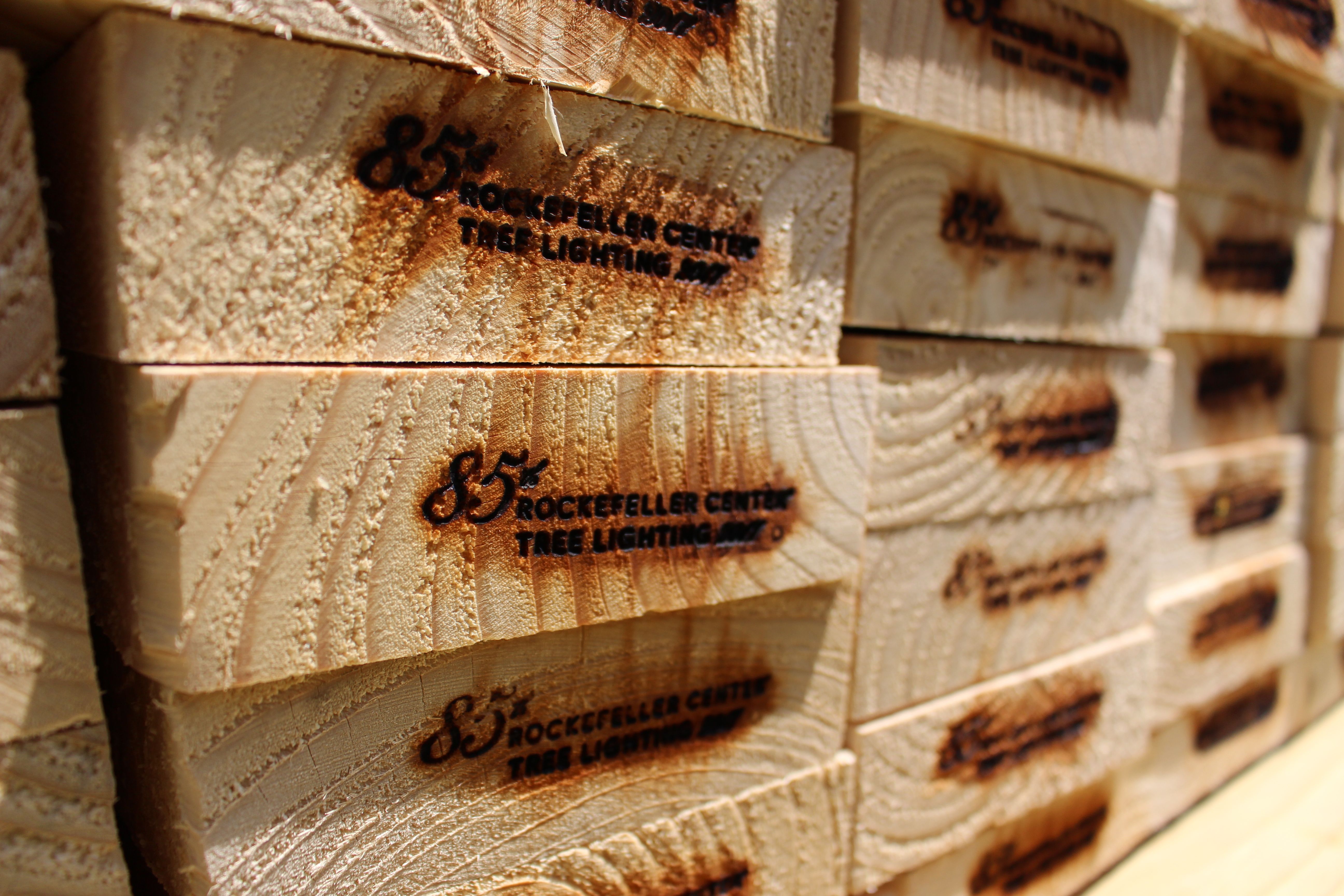 Newburgh, NY (June 12, 2018) — On Wednesday, June 20, Habitat for Humanity of Greater Newburgh will kick off a home build using the lumber milled from the 2017 Rockefeller Center Christmas tree. Working alongside the future homeowner family, volunteers will begin construction efforts using the lumber from one of the most widely recognized trees to build an affordable rehabilitated home on Johnston Street in Newburgh.
"This gift is not only extremely meaningful to the homebuyer family, but the honor of receiving this lumber for the third consecutive year shines a spotlight on Habitat Newburgh's work in this community," says Habitat Newburgh Executive Director Cathy Collins. "The joy and hope that the Rockefeller Center Christmas tree represents is definitely present in the neighborhood where the lumber has been built into five Habitat homes."
This is the 11th year that the Rockefeller Center Christmas tree has been donated to a local Habitat for Humanity organization by Tishman Speyer. This is the third consecutive year the lumber has been donated to Habitat of Greater Newburgh, and the fourth overall. More information on this year's gift can be found here. The 75-foot Norway spruce comes from State College, Pennsylvania, and will be used to help a Habitat Newburgh homeowner family that has already been identified.
Who: Habitat for Humanity of Greater Newburgh
What: Volunteer Build Day with Rockefeller Center Christmas Tree Lumber
Where: 25 Johnston Street, Newburgh, NY
When: Wednesday, June 20, 2018
Time: 9:30 AM – 12:30 PM EDT
*Media invited to attend; photo and interview opportunities available
Contact Info:
Caitlin Dalton
Communications & Marketing Coordinator
845 568-6035 ext. 112
Day of Event call: 845 762-8342
cdalton@habitatnewburgh.org
About Habitat for Humanity of Greater Newburgh: Seeking to put God's love into action, Habitat for Humanity of Greater Newburgh brings together people to build homes, communities and hope. Founded in October of 1999, Habitat Newburgh is one of nearly 1,300 local affiliates of Habitat for Humanity International, is the largest and most productive affiliate in the Hudson Valley, and is the first affiliate in the northeast to be selected as an Affiliate of Distinction. We have completed 94 decent and affordable homes in one of the most distressed urban areas in the United States and the largest contiguous historical district in New York State. The E. Parmenter Street Neighborhood, a 22-house development on what was formerly one of the most blighted blocks in Newburgh, is now a thriving community of Habitat Newburgh homeowners. To date, 108 families (289 children and 198 adults) earning between 30-60% of the area median income, have demonstrated a willingness to partner with Habitat Newburgh by investing sweat equity into the construction of our homes, participating in required homeowner education classes, and signing a mortgage. Habitat Newburgh homeowners contribute over $500,000 per year in school and city taxes. Thirty-five Newburgh homeowners have participated in our A Brush With Kindness minor home repair program. In addition to our work in this community, Habitat Newburgh has helped 108 families in Haiti, Ethiopia, India, Jordan, and Mexico secure shelter.
Follow us on Twitter @habitatnewburgh or facebook.com/habitatnewburgh
###