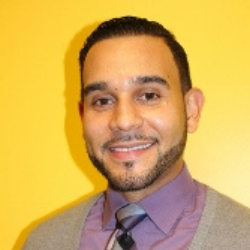 Carlos Alicea's career in banking spans over 19 years, with experience in every position within the branch model. Originally from New York City, he has been a resident of Orange County withhis wife, two children and two dogs for over eight years. He is currently the Assistant Vice President / Branch Manager at M&T Bank and works to build both business and community relationships. He has a multicultural background that helps him best serve the needs of a diverse community. He is a current member of the Goshen, Orange & Dutchess County Chamber of Commerce and a graduate of Leadership Orange Class of 2018. He is also the recipient for the 2018 Rising Latino Star 40 under 40 and 2019 Dutchess County 40 under 40 mover and shaker. He volunteers for Habitat of Humanity for Greater Newburgh by helping to build homes and continuously providing resources to nonprofit organizations within the community. He also works to provide ongoing financial education for Orange Ulster Boces and Junior Achievement of New York / Lower Hudson Valley. He recently started a nonprofit organization with his family called With Open Arms, providing resources to families in need through community fundraising, mental health education, outreach and advocacy. To him, serving on the Board for Habitat Newburgh means he is doing the right thing. In his work to impact communities that need, he is inspired by Gandhi's quote "...Be the change you wish to see in the world." It starts with each and every one of us. He is honored to have such an opportunity.
subscribe to our newsletter
Click the link below to sign up to receive our newsletter.