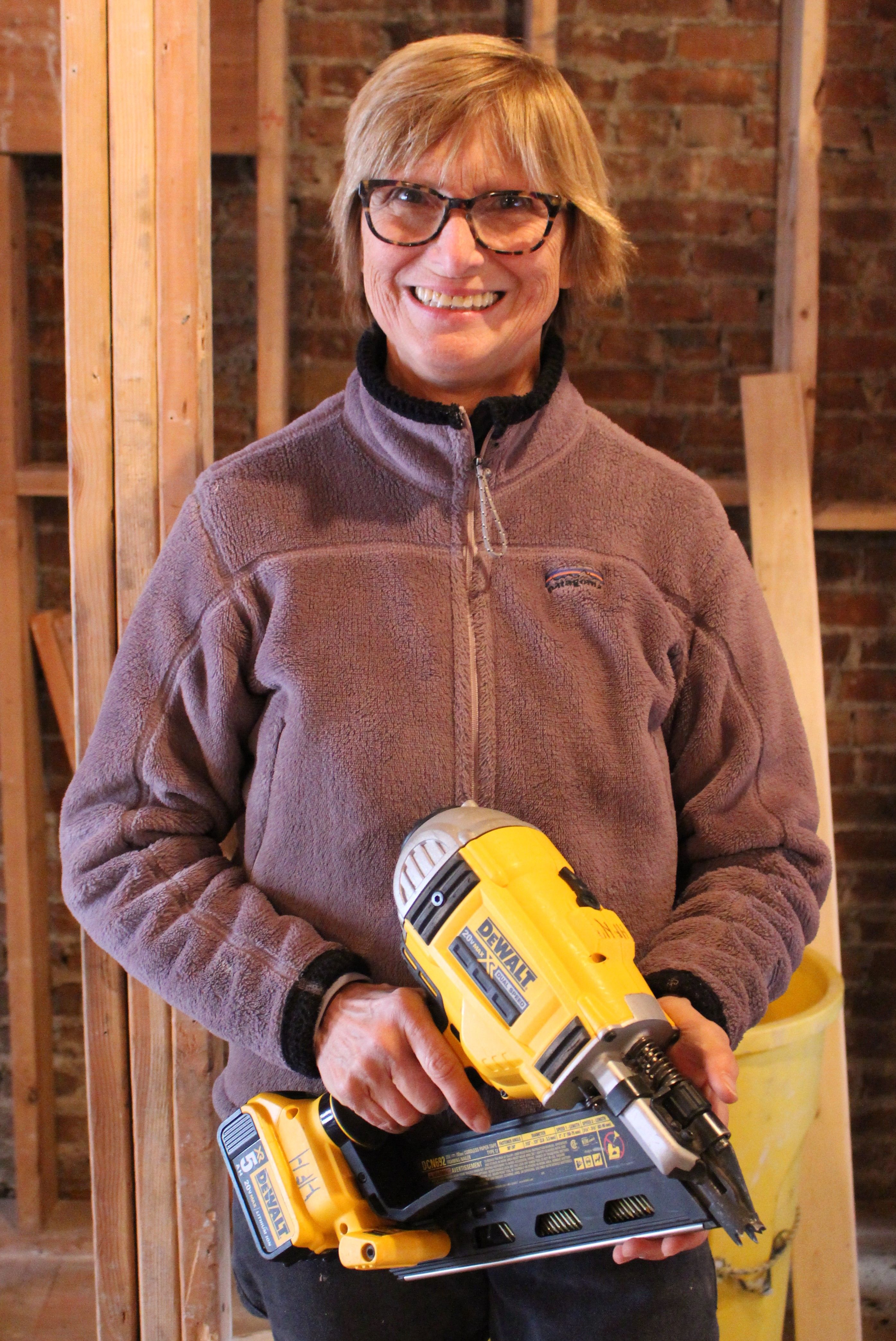 Can-doers & Go-getters
We have made it to that point in the year where you can't avoid the chill in the air, and Spring feels a lot further than it actually is.  Despite dropping temperatures and some less than ideal weather conditions, volunteers are as eager as ever to break down old walls and replace them with something more hospitable for our future homeowners. It is interesting to witness the dynamic of harsh conditions attracting the hardiest folk in our organization. Among those ranks is the star of this month's volunteer spotlight, Susan Crandall.
Susan can usually be found on site Wednesdays and Fridays, grinning and eager to get her hands dirty and learn something new. One of her favorite aspects of volunteering is all of the firsts that she has the chance to experience. From working with new tools to delving into different home improvement projects, the variety has an allure that has kept Susan coming back for almost 2 years.
Before becoming a weekly staple on site, Susan worked as a magazine editor in New York City for 15 years. From there she worked on a project for AARP called Life Reimagined, a website that focused on life change. She joined the Habitat family shortly after her career "broke up with her". Considering her hard work, lightheartedness and willingness to learn new skills we are happy to be Susan's post-career rebound. In addition to volunteering, Susan is also an avid cyclist who racks up an impressive 2,000 miles a year!
When prompted to share some of her favorite memories and qualities of the volunteer experience, Susan laughed and said "If they ever make a blooper reel I'll definitely be on it". She followed up with "If you can't make Josh and Brady tear their hair out what fun is it?" Susan also marveled at the go-getters who consistently displayed can-do attitudes onsite. She fits seamlessly into our lovely roster of can-doers, where the effort each volunteer puts in provides tangible results. From grunt work to the finishing touches, Susan loves being able to see the results of her work throughout the process of a build.
All of our volunteers come from unique backgrounds and have had various life experiences and there are some parallels that can be observed in their personalities and reasons for donating their time. Susan's desire to give back to the community, kindness, generosity, and ability to dissect negative situations and turn them into something great make her someone we are lucky to count her among our can-doers and go-getters.