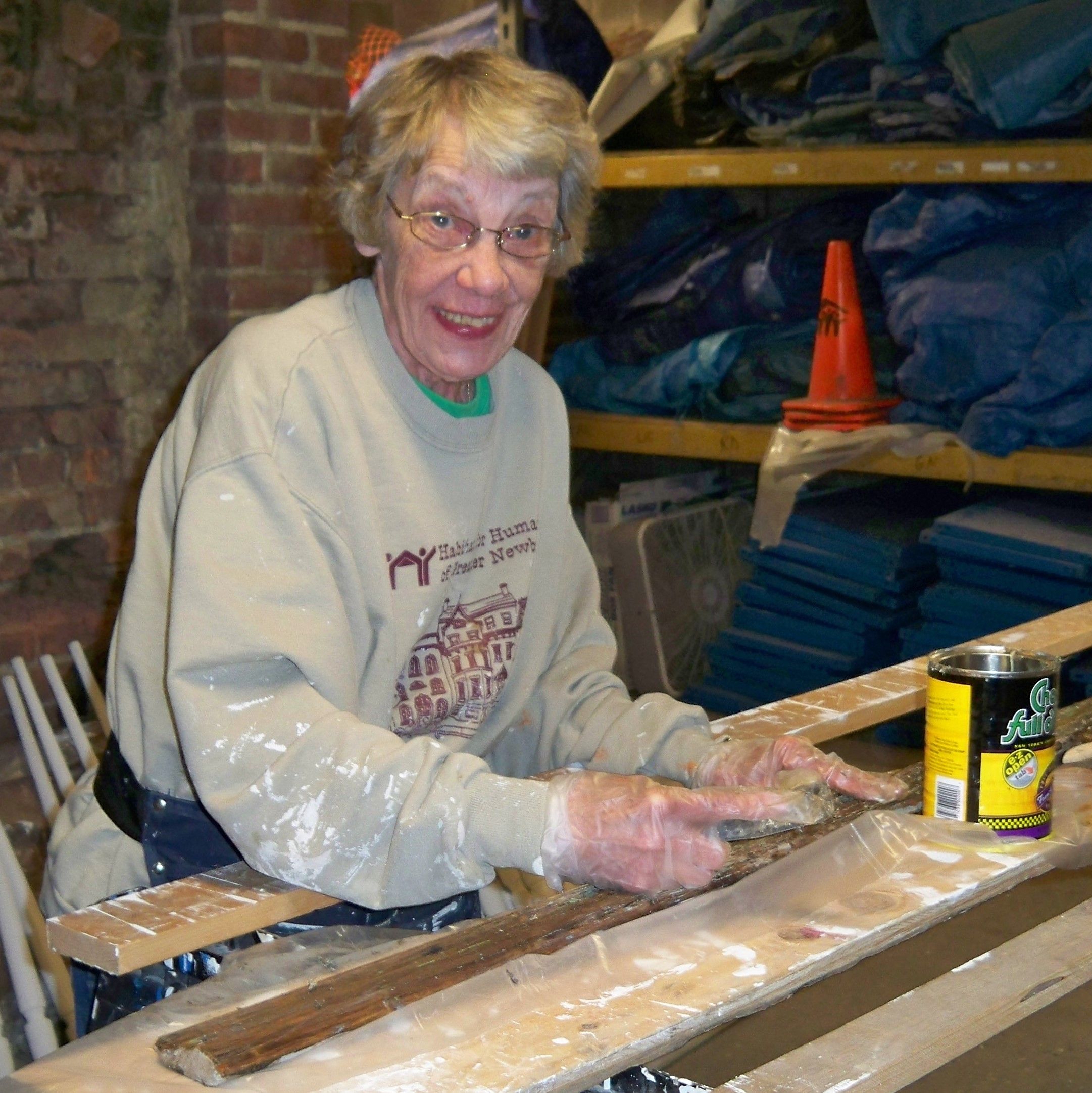 Habitat Newburgh is known as a housing organization and rightfully so. However, an often overlooked aspect of our work is community development. Our volunteers, home buying families, and staff come from a widely diverse background, though we share the same region and community. Habitat Newburgh acts as a catalyst for members of our community to become a part of each others lives. Longtime volunteer, Maureen Mushlit, is a great example.
Maureen originally hails from Queens, NY. Seventeen years ago, Maureen ended up in Newburgh, via Warwick. As a new member of the community, Maureen attended a meeting at Mount St. Mary's College that offered volunteer opportunities in Newburgh. Of course, this meeting was for Habitat for Humanity of Greater Newburgh. Since that meeting, Maureen has been a regular volunteer with Habitat Newburgh, where she has acted as a construction volunteer, paint captain, house captain, building and site selection committee member, and ReStore donations assistant. These days, you can find Maureen at the ReStore register. At the ReStore register, Maureen puts to use the skills she acquired at her first ever job as the toy department cashier at Bloomingdale's in Manhattan.
Maureen has brought her 40+ years of experience as a realtor to Habitat Newburgh since the early days of our affiliate. This experience has had a serious effect, from involving the Orange County Association of Realtors (OCAR) in sponsoring homes to assisting a current Habitat Newburgh homeowner in purchasing their home. As Maureen told us, she used her professional expertise to encourage a Habitat homeowner ('a wonderful friend') to purchase a home through our home buying program. Maureen's relationship with Habitat Newburgh has been mutually beneficial, as her involvement led to her winning Orange County Realtor of the Year in 2005.
Aside from spending her afternoons at the ReStore, Maureen enjoys gardening, sewing, and crocheting, as well as spending time with her 5 children, 15 grandchildren, and her first great-grandchild. Maureen deeply values her time with Habitat Newburgh and the relationships with other volunteers and Habitat families. Maureen shared a quote from a former volunteer to wrap up our interview: "Habitat Newburgh is the only place I know with no egos."
Habitat Newburgh thanks Maureen Mushlit for her years of volunteering with us and we look forward sharing our community with her for years to come.