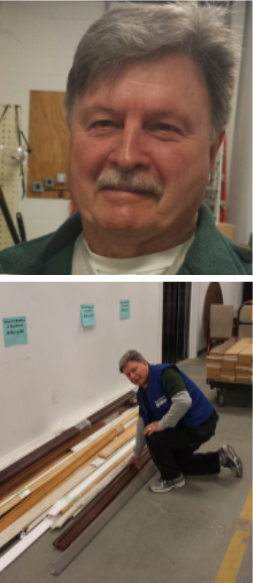 Writing a Volunteer Spotlight is an active way to illustrate one of the most integral aspects of the Habitat Newburgh community: communication. As some might expect, the hectic nature of construction sites and the ReStore do not always provide us with the ideal settings to have one-on-one conversations. Fortunately, we found a quiet few moments to sit down with Habitat ReStore volunteer George Dolan to discuss not only what drives him to devote much of his free time to volunteer with us, but also learn more about George as an individual.
George Dolan was born in the Bronx, but his family relocated to New Windsor when he was still young. George is a graduate of St. Patrick's School here in Newburgh, as well as a veteran of the United States Air Force. While serving in the Air Force, George was stationed in Georgia and Alaska. When asked what his favorite aspect of serving was, George said, "I was kid! I enjoyed seeing Alaska and being able to go skiing."
After returning from the Air Force, George spent the next 42 years working at West Point. After George retired from West Point he was looking for a way to be involved in the community and, as we often hear from volunteers, a way to stay busy. Interestingly, there weren't many options available to him. That is, until George was a customer in the ReStore with his son. A conversation with the ReStore manager turned into 4 (more) years of service in which George has been able to utilize the skills he has learned through a lifetime of personal and professional experiences. This includes his ability to operate trucks and forklifts, but also George's skills at communication.
In his free time not spent at the ReStore, George enjoys umpiring baseball games in and around the area. According to ReStore Manager Diane Pacella, it's amazing George has any free time, since he is involved at the ReStore so often. George also finds time to go shopping with his wife (not entirely up to him) and see his two grandchildren who George describes as immensely talented.
When asked what keeps him coming back and why he enjoys volunteering, George said, "Habitat is like a family, including the rapport we've developed with the customers." George looks forward to the continued improvement and development of Newburgh, especially the utilization of the waterfront area. We couldn't enjoy the continued success of the Newburgh ReStore without the support of volunteers like George.