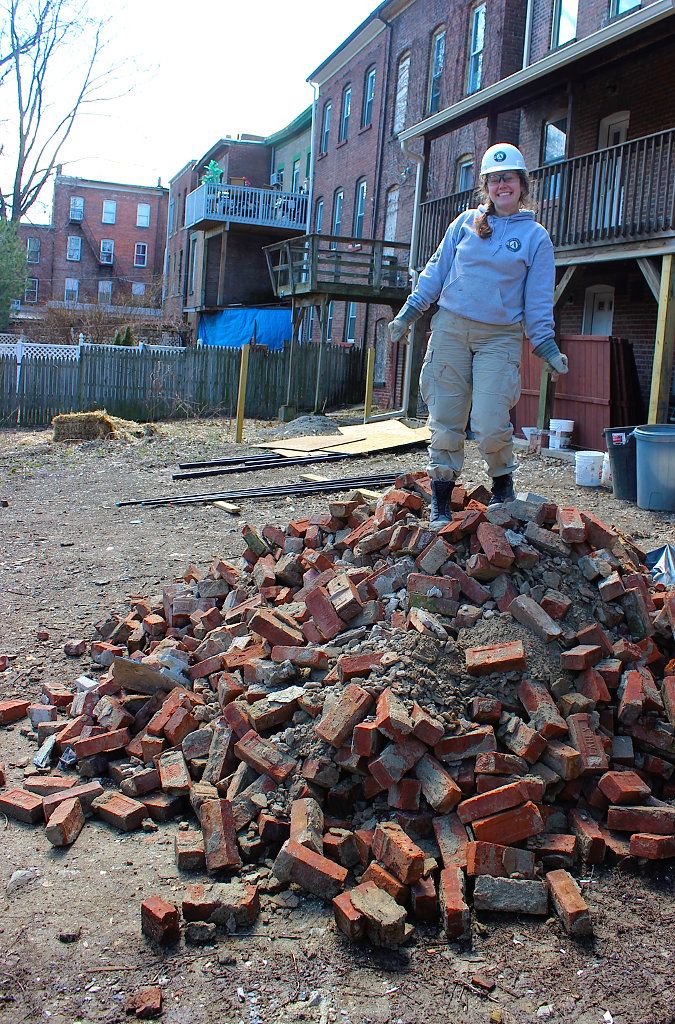 AmeriCorps NCCC Team Moose 7 has been working with Habitat for Humanity of Greater Newburgh, experiencing everything from sunny days spent picking up trash in vacant lots to hauling buckets of bricks in the pouring rain. The team is part of an ongoing effort by the tightly knit Newburgh community to bring the city back to a place of dignity and hope.
Newburgh is a city that has seen tough times, and walking its streets this becomes evident; condemned buildings line the avenues, trash blocks storm drains and tangles in neglected gardens, and its main street is dotted with closed down storefronts. The city has become infamous for its violent crime rate, which towers above the national average of 3.8 at 14.99. Beneath these statistics and surface impressions lies a vibrant and resilient community with an extremely rich past; the Algonquin peoples grew corn, beans, and gourds in its soils, George Washington directed his troops from atop a hill in the center of the city, and barges containing everything from bricks to denim overalls floated the Hudson river to be sold in New York City. In more recent years, however, Newburgh has been disheartened by waves of unemployment, drug abuse, and violence, leaving the streets and buildings in varying states of disrepair and many of its citizens lacking hope.
Though the city is crestfallen, it is teeming with new signs of life; where there once were crumbling vacancies, there are now children playing tag in backyards. Families that were once paying exorbitant rent for dangerous living situations are now paying fair, affordable mortgages for homes that they can call their own. Thanks to Habitat Newburgh, the streets that were previously the most dangerous are now the most lively. Habitat Newburgh rejuvenates the community by building and renovating homes and providing very low income families with an opportunity to become owners of these homes, as well as engaging the neighborhood with twice-weekly volunteer days. Habitat Newburgh relies on its staff, community volunteers, AmeriCorps National and VISTA members, as well as the Moose 7 team, to deliberately and devotedly take action to rejuvenate the city.
Moose 7 has had the opportunity to be part of this steady revitalization, working alongside staff and other AmeriCorps members to tackle a new task almost every day. They have stained and transported 20 fences, created 5 'Giant Jenga' sets to be donated to community organizations, and moved over 27,500 pounds of debris from a brick home Habitat is working to renovate, as well as sweeping innumerable floors and picking up trash from around the neighborhood. The team is adapting from project to project and learning how to stick it out when things get tough. One challenge the team has faced came in the form of a two story, three sided brick wall; their task was to demolish it brick by brick, clean and stack the whole bricks for reuse, and load the broken bricks and mortar into buckets to be hauled to the dumpster. This task tried the team's patience and strength, as it took two weeks to complete fully and sent them to bed aching and exhausted each night. When asked what the highlight of the project has been so far, Corps Member Jorree Beavers laughed, "When we got the brick walls down and moved, I was incredibly happy because I was SO tired of those bricks."
The work may be tough, but the compassion and support of the surrounding community helps to make the hard days more enjoyable. Each Wednesday and Saturday at 10 a.m., each staff member, volunteer, or Corps member puts down their tool or task to go to Community Coffee Break, where Newburghers of all ages gather around sweets and coffee to discuss Habitat projects, city happenings, or just to catch up with friends. There's an overwhelming sense of comradery in these cramped church basement gatherings; it's a pocket of sweetness in a struggling city, an ever evolving group of people who have dedicated themselves to returning Newburgh to a state of safety and dignity one home at a time. Corps Member Jeison Geist has loved "...learning the community is willing to help in order to create change." So has Team Leader Matt McKeown, as his favorite part of Round 1 has been "The volunteer days; having the opportunity to serve alongside families, people in this community or from ones far away. Simply put, the people we get to interact with."
Habitat and the community that supports it make a very visible difference on the streets of Newburgh, but it's also taught Moose 7 a lot. Each day, team members learn how to safely use tools like screwdrivers, saws, and power drills to accomplish a variety of tasks. They have learned the right protective equipment to wear, how to lift heavy things carefully, and how to communicate within the team to accomplish objectives safely. Moose 7 members come from all different backgrounds - some focused on Carpentry as a trade at JobCorps, and some had scarcely touched a hammer to a nail, so as they work day to day they are learning to support one another as they discover their strengths and weaknesses. Finally, Moose 7 is learning to take pride in their work; Johnnie Ray's favorite part of this project has been "...helping heal the community by doing the work we're doing, restoring and building houses and giving people an opportunity to see what AmeriCorps NCCC really stands for."
The impact that Habitat and NCCC have on Newburgh is plain to see; Corps Member Elise remarks, "Habitat and AmeriCorps are viewed as doing something for the greater good. Even walking on the street you can be recognized by the locals, and that shows how much impact Habitat has had on the individuals in the city." Newburgh is a community with a strong foundation and a resonant history, and with the help of Habitat, the devoted community that supports it, and teams like Moose 7, it has a bright future. With the steady support and sweat of its community members and a few more 2 by 4's, Newburgh will continue to blossom into an even greater place to call home.