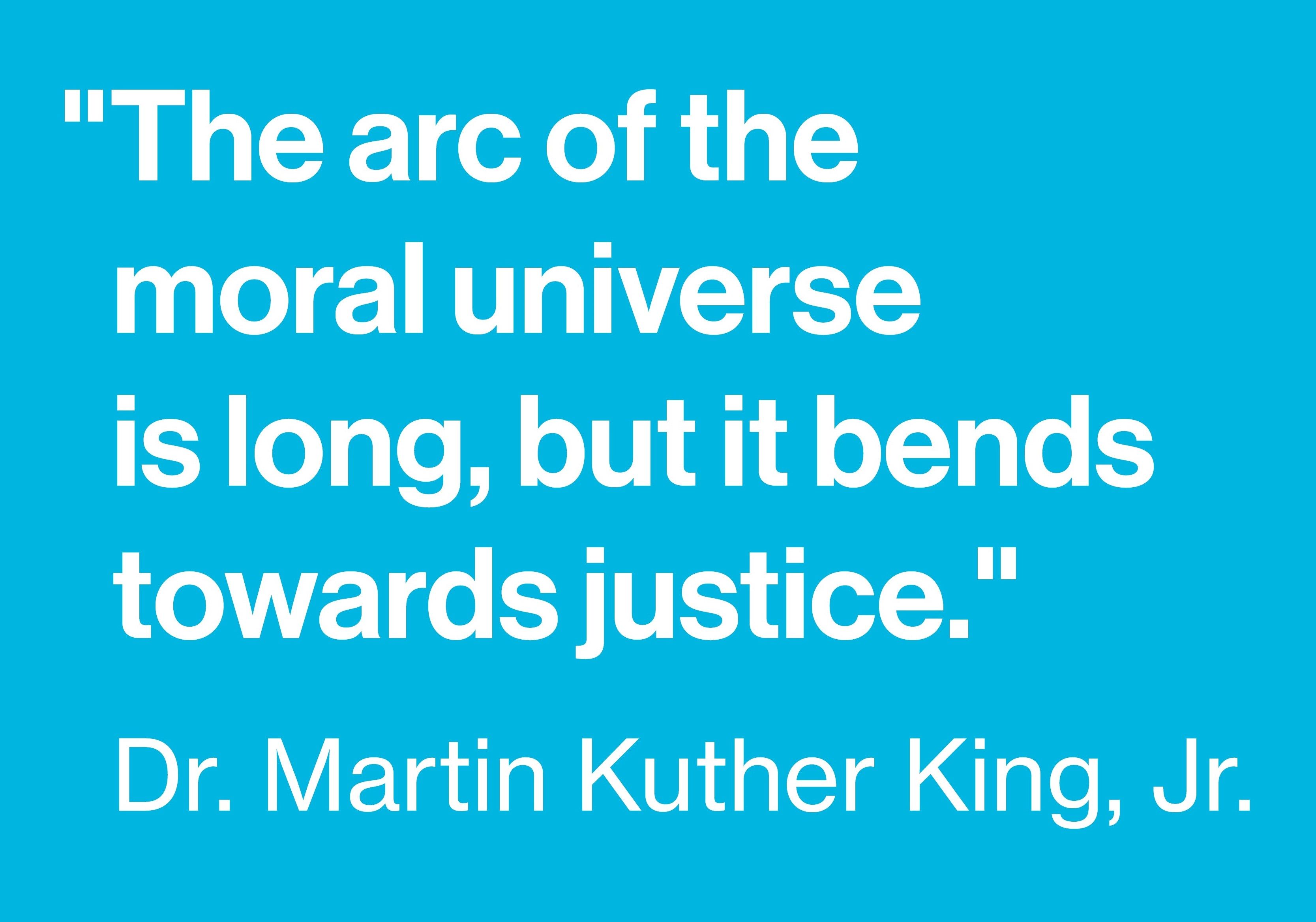 Bending the Arc
By Cathy Collins
When I was seven years old, I read a book about Martin Luther King Jr. and was immediately captivated. In 1972, that was unusual, particularly in a small town in Arkansas. I also did my high school senior thesis on him. To say he has had a profound influence on my life would be an understatement.
Nearly three years ago, when a team of staff members went to the Habitat on the Hill conference in D.C., we visited the newly opened Martin Luther King, Jr. Memorial. As I walked along the granite wall engraved with quotes spanning his lifetime, I came to this one and tears began welling up. It was a quote I was not familiar with. In preparing for this column, I read the sermon in which this quote is found. It comes at the end of a very powerful sermon; a sermon that I feel could have been written for today, this new year that we have entered.
It is a sermon based on Moses and the people of Egypt leaving behind the darkness of Egypt and seeking the Promised Land. He points out that 3 groups emerged from this story. Those that wanted to go back to Egypt because the road to the Promised Land was too difficult; those that were willing and ready to move forward amid the challenges and difficulties to the Promised Land; and those that wanted to stay out of Egypt, but not move towards the Promised Land. The sermon focuses on this last group and calls them into action and out of complacency. He puts forth the symbolic mountains that we have rested in for enough time—practical materialism, racial injustice, indifference, violence and hatred.
The sermon concludes with his undying belief that we will get to the Promised Land. Quoting the spiritual We Shall Overcome, he follows it by saying "And I believe it because somehow, the arc of the moral universe is long, but it bends toward justice." He then does a recitation of examples of where this has occurred. If he were visiting Habitat Newburgh today, he would have a long list of people bending the universe towards justice. Those same people, and the new ones who will join us, will continue this work in 2017 as we complete the 4 Ann Street homes, tackle 2 more properties on S. Miller Street, look to recycle 2 houses on Henry and Carson Street, make plans to take on several properties on William, Johnston, and Lander Street all in partnership with families who will gain strength, stability, and self-reliance as homeowners of these transformed properties.
I know of no other organization that better embodies my favorite MLK quote (which is actually found in this same sermon). "We are all caught in an inescapable network of mutuality, tied in a single garment of destiny. And what affects one directly affects all indirectly. For some strange reason, I can never be what I ought to be until you are what you ought to be. And you can never be what you ought to be until I am what I ought to be." Thank you for all that you do to help each of us become more of what we ought to be and just that much closer to the Promised Land.
Read the entire sermon: http://www.americanrhetoric.com/speeches/mlktempleisraelhollywood.htm