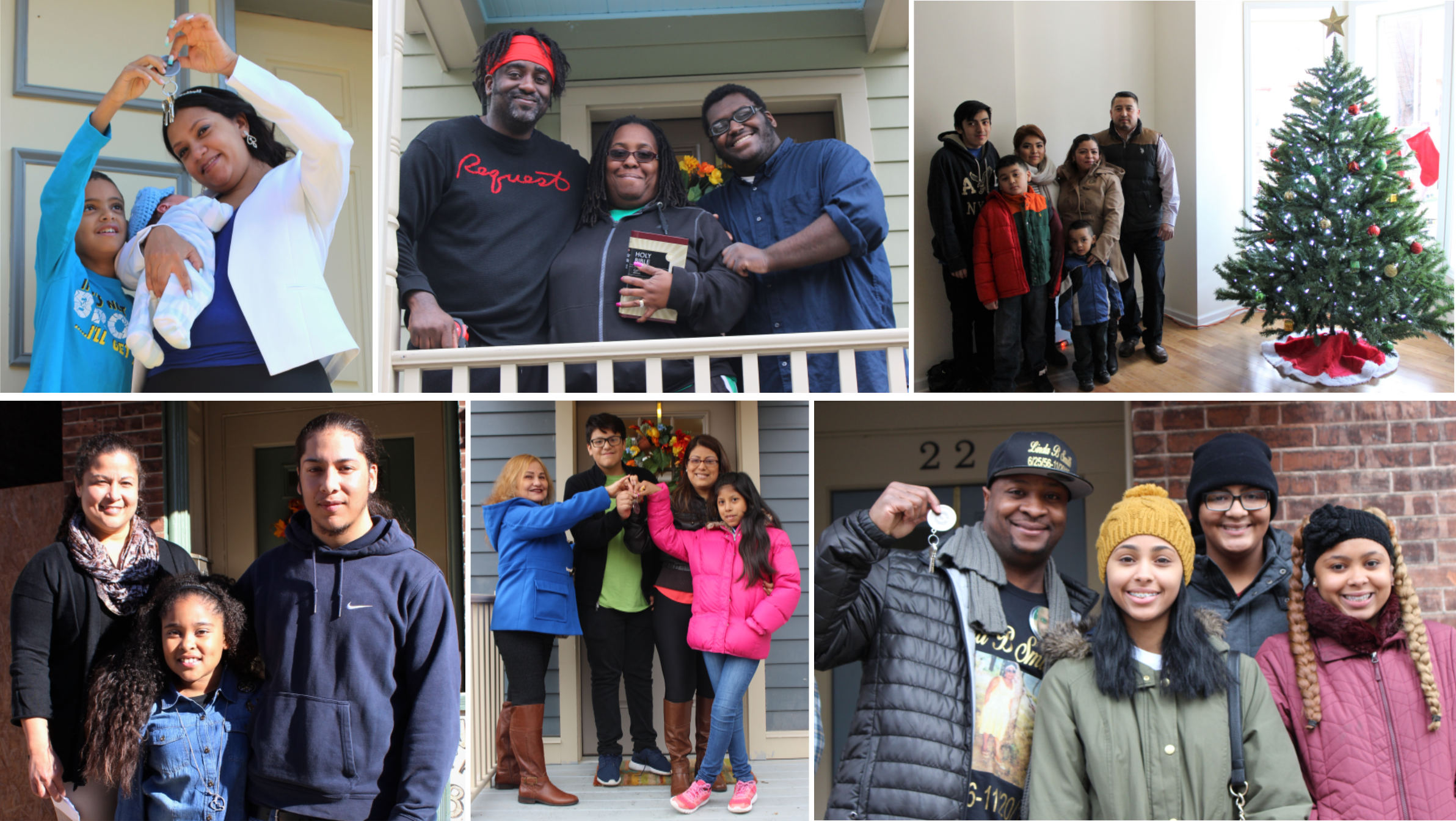 Looking back at 2016, this has been a busy, joyful year at Habitat Newburgh. We have continued many traditions, hosted many events, raised many dollars, explored exciting new innovations, strengthened community partnerships, built many houses, and celebrated with many homeowner families!
We kicked the year off with our 5th Annual MLK Day of Service which included for the first time a kids' activity building birdhouses. We also began in earnest our second neighborhood development on South Miller Street. This block is the target of the concentrated efforts of Habitat Newburgh in partnership with the Newburgh Community Land Bank and RUPCO, who is providing affordable rental units on the block. We are ending the year having dedicated three beautiful gut-rehab houses on this street to three incredible homeowner families. In addition, 22 & 26 S. Miller contain lumber milled from the 2015 Rockefeller Center Christmas Tree. This is the second time that Habitat Newburgh has been honored with the gift of lumber from the iconic tree.
2016 was a year of innovation for Habitat Newburgh. In March, we broke ground on 123 Washington Street, our first Live/Work home. Our organization was chosen in a nation-wide competitive grant from MasterCard to pilot this program, which brings small business ownership into reach for low-income entrepreneurs by combining residential and commercial space and costs into a single building. Over an incredible whirlwind of 5 days, we completed a three-story Live/Work home for photographer Ignacio and his family as our 5th Home Builders Blitz, with labor and materials donated by our supporters in the contracting sector. Additionally, two future homeowner families received the keys to ADA-compliant handicapped-accessible homes on Clark Street, one of which is a Veterans Build house (supported by the local veteran and military community with a veteran homeowner).
We also broke ground on Faith Builds II, which consists of four new Habitat homes on Ann Street that are sponsored by long-time faith coalitions that partner with Habitat Newburgh—PresbyBuild, EpiscoBuild, Methodists & Friends Build—and a very special Unity House project which is supported by many different faith groups. Habitat Newburgh has deep roots in the faith community, and these long-standing partnerships have been an instrumental part of our work. The unflagging support of the faith community has been central to our organization's success since our founding.
This year, we welcomed 8 home buyer families into our program. These families will complete a revamped homeownership curriculum developed by our Family Support Committee that will provide them with a stronger base of knowledge needed to be successful homeowners.
In 2016, our volunteer workforce was incredible!
We were joined by nearly 1,000 first-time volunteers
We hosted 75 volunteer groups
Almost 3,000 construction volunteers worked on-site
Approximately 1,300 non-construction volunteers contributed to our operations
Volunteers gave over 20,000 hours of construction labor
Off of the construction site, volunteers contributed over 9,000 hours of work
Our Women Build program is going strong, and we dedicated our 7th Women Build House
Growing partnerships in the community is a central tenet of our philosophy, as well as a pragmatic strategy to expand our impact. This year, Habitat Newburgh, having listened to representatives from local housing non-profits and government agencies, spearheaded the creation of the Newburgh Housing Coalition. This team is taking on the creating of the housing portion of the City of Newburgh's next Comprehensive Plan. Our partnership with the Newburgh Community Land Bank has brought great dividends. With the success of our work together on South Miller, Habitat Newburgh looks to partner with them again on a grant for many projects in the future. We also amplified our voice by advocating affordable housing with our elected officials on a local and national level. A Habitat Newburgh delegation attended the 'Habitat on the Hill' national conference in Washington, D.C., where we met with New York senators and representatives to talk about affordable housing and the issues and legislation that impact Habitat's work.
By the end of the year, Habitat Newburgh will dedicate our 85th house. Our generous donors, sponsors, and supporters invested the capital needed for us to build to this point. Volunteers took on greater responsibility as we transitioned away from staff-led fundraising events. This dedicated group raised an incredible $100,000 through our 17th Annual Walk for Housing and our 17th Annual Golf Fore Housing. The ReStore has also played an important part in funding our mission, celebrating their second year in the new location, where the store has thrived and raised more money than ever. Our Building Houses, Building Hope Fundraising Breakfast saw many new donors joining our giving society, and many long-time donors renewing and increasing their pledges of support.
Our mission is important, and as productive as we are as an organization, we know that we still fall short of the huge housing need in our community. We know that so many of our neighbors still struggle with unaffordable and sub-standard housing conditions which prevent families from thriving. As we build momentum in our work, we are grateful for the continuing support of the community where we work, the kindness shown to us by our neighbors, the wonderful press coverage we have received from local media outlets, and most of all to the thousands of people who work together for a common purpose- putting God's love into action by bringing people together to build homes, community, and hope.