 Ryan O'Hara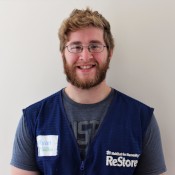 Ryan is a lifetime Newburgher who graduated from NFA. Before joining the ReStore team, he worked as a high ropes course activity specialist and summer camp counselor. Ryan had read about Habitat's work in Newburgh and had seen the impact that Habitat homes have had on some of the blocks that he knew growing up here. He says that knowing there is a group of people who are working together to get houses into livable conditions and help others is a wonderful thing. He is looking forward to working with the staff and volunteer team at the ReStore and contributing towards Habitat's mission.
subscribe to our newsletter
Click the link below to sign up to receive our newsletter.