 Michael Frohnhoefer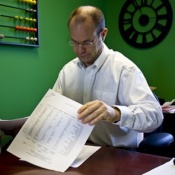 I came to Habitat Newburgh after having been the organization's auditor for the previous three years. I came to Habitat because I believe in giving people the opportunity to improve themselves, their families and situations with a hand up from Habitat Newburgh. I have over 7 years of experience as an accountant and before that spent 14 years in retail management. I hold an Associates of Science degree from Orange County Community College and Bachelor of Science in Accounting from the State University of New York at New Paltz. I am responsible for and manage all financial related matters for the affiliate.
subscribe to our newsletter
Click the link below to sign up to receive our newsletter.