 Meghan Whalen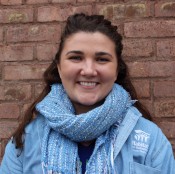 Meghan graduated from Marist College in 2016 with a degree in International Business and will be serving as an AmeriCorps volunteer with HFH Newburgh. During her time at Marist, she studied abroad in the South Pacific on a sailboat and in Galway, Ireland. Meghan caught the travel bug somewhere along the way and found herself backpacking through Central America for 5 months upon graduation. After discovering that proper sanitation seemed to be a "luxury" in various third world countries, she decided to return home and serve at a place both close to her home and heart. Meghan is looking forward to making a difference in the community and acquiring new skills.
subscribe to our newsletter
Click the link below to sign up to receive our newsletter.