 Rudy Hawkes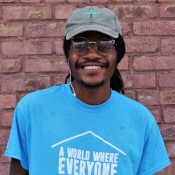 After a year of AmeriCorps with Beaches Habitat in Atlantic Beach, Florida, Philly native Rudy Hawkes missed the colder weather. When he met some AmeriCorps from Newburgh at a Habitat conference, he decided to join our team!
Before his first AmeriCorps term, Rudy says that he had never swung a hammer and knew nothing about construction, but he is a quick learner and has enjoyed learning to build. He always encourages volunteers not to be afraid to learn new skills. Rudy enjoys working with Habitat because he likes the mindset of helping others, and to be surrounded by a community of people giving back.
Rudy loves sports and music. He makes a point to go to as many concerts as he can, and says that while other sports can be watched on TV, the only way to watch baseball is live. Rudy is a photographer and videographer and his ambition is to attend art school for film.
subscribe to our newsletter
Click the link below to sign up to receive our newsletter.