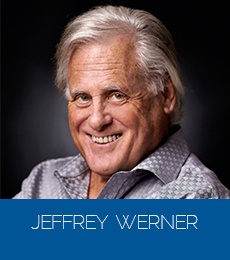 Jeffrey Russell Werner has had over 40 years of full-range legal practice experience with an emphasis on preserving and protecting clients' interests in commercial transactions and business litigation, estate planning and elderlaw, probate and probate litigation. Mr. Werner is a graduate of Alfred University in Alfred, New York where he graduated with departmental honors and Georgetown University Law Center in Washington, D.C. and he is a member of the bars of the State of New York, the District of Columbia, the State of Maryland and the Federal District Court of the Southern District of New York. He has practiced in the District of Columbia and the State of Maryland where he authored the City Codes of Dover Delaware and Westland Michigan and where he was law clerk to Robert C. Murphy, Chief Judge of the Maryland Court of Special Appeals, Assistant State's Attorney for Montgomery County Maryland, Director of the Montgomery and Prince George's Counties Major Frauds Unit and Maryland Assistant Attorney General for the Consumer Protection Division.
In 1982 Mr. Werner returned to the Newburgh, N.Y. area where he had attended the public school system and practiced law with his father, Louis Werner, then with the firm of Werner & Saffioti, LLP, and is currently practicing on his own. He served as Town Justice for the Town of Newburgh for 17 years and was General Counsel for the Hudson Valley Council of the Boy Scouts of America. He has served as a lecturer for the Planned Giving Board of the Arthritis Foundation of America, New York Chapter and as an approved elderlaw attorney for the American Association of Retired Persons. His memberships have included the Orange County Bar Association, Greater Newburgh Bar Association, Newburgh Rotary Club, Board Member and Counsel to the Newburgh Preservation Association, and Board Member of the Newburgh Revitalization Corporation. Mr. Werner resides in Cornwall-on-Hudson, New York with his wife, Donna M. Cornell, and they have four grown children and six grandchildren.
Mr. Werner has been published, as follows: NPR, LLC v. K.A.B.B., Inc., 25 A.D.3d 674 (2d Dept. 2006); In the Matter of Marion T. Fayo, 7 A.D.3d 795 (2d Dept. 2004), lv. to app. den. 3 N.Y. 3d 693 (2004); Matter of Carey, 249 A.D.2d 542 (2d Dept. 1998); People v. Uzquiano, 169 Misc. 2d 109 (Sp. Term 1996); People v. Ferguson, 162 Misc. 2d 187 (Sp. Term 1994); State v. Andresen, 24 Md. App. 128, 331 A.2d 78 (1975), cert. granted and aff. with decision Andresen v. Maryland, 427 U.S. 463 (1976).
subscribe to our newsletter
Click the link below to sign up to receive our newsletter.