How the Faith Community Supports our Work
Congregations and faith communities throughout our service area come together to combine their volunteer, fundraising, and prayer efforts to help realize our shared vision of a world where everyone has a decent place to live. 
Communities of faith are an important part of the success of Habitat Newburgh. Our very first house was a Unity House sponsored by the collective efforts of local faith communities. To date Faith Build groups have sponsored 27 of the 80 homes that we have completed and 10 of the 30 A Brush with Kindness repair projects.
When Habitat Newburgh built its 22 home E. Parmenter Street Neighborhood Development, a flagship of our community-building work, one set of five connected houses were designated as the Faith Builds, with each home sponsored by a Faith Build partner.
Currently under construction we have Faith Builds II, another set of Habitat homes that will be supported by countells prayers, volunteer hours, fundraising events, and donations bigh and small from communities of faith. Four future homeowners will look forward to living in a decemtn and affordable home, surrounded by wall built with great love. 
You and your faith group can be a part of this meaningful ministry of shelter. Contact our Fund Development Manager to find out how your faith community can get involved. 
Faith Builds II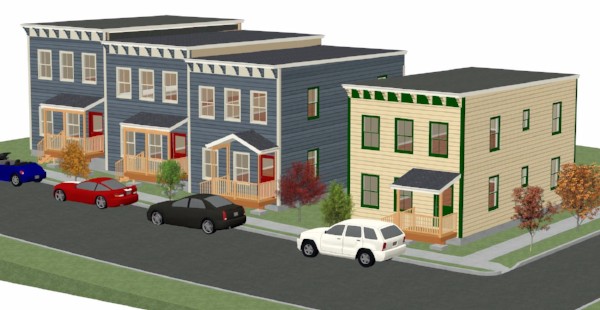 150 | 152 | 154 | 156 Ann Street
Prayer for Shelter
Eternal One, whom we call upon by various names, yet who is beyond our naming, we give thanks for the gift of life and of life together as your beloved community. Just and Compassionate One, we pray for all who need shelter from the storms of existence--from poverty, and prejudice, and indifference to human need and hope. Sheltering God, may we continue to be your co-workers, as we build houses and homes, lives and community, in this city, and as we tithe to provide assistance to families in Ethiopia, Haiti, India, Jordan, and Mexico.  AMEN
Catholic Community of Greater Newburgh
285 Ann Street (Sacred Heart Catholic Church), 2012
EpiscoBuild
156 Dubois Street, 2006
60 Clark Street, 2008
40 E. Parmenter Street, 2010
29 Liberty Street, W.H., 2012
37 E. Parmenter Street, 2013
154 Ann Street, 2017
Jewish Community of Greater Newburgh
42 E. Parmenter Street (Mike's House—in memory of Mike Levine), 2010
Lutherans Build
64 Carson Avenue (Aid Association for Lutherans), 2002
58 Henry Avenue (Thrivent Financial for Lutherans), 2006
105 Washington Street (Thrivent Financial for Lutherans), 2007
53 Temple Avenue (Thrivent Financial for Lutherans), 2009
A Brush With Kindness, 10 projects (Thrivent Builds), 2015-2016
Methodist & Friends Build
70 Benkard Avenue, 2007
56 Courtney Avenue, 2010
68 Benkard Avenue, 2012
33 E. Parmenter Street, 2013
54 Clark Street, 2016
156 Ann Street, 2017
Moulton Memorial Baptist Church
39 E. Parmenter Street (In memory of Fred & Betsy Jadrosich), 2013
PresbyBuild
344 Liberty Street, 2004
202 South Street, 2007
14 E. Parmenter Street, 2009
132 Benkard Avenue, 2011
10 Catherine Street, 2012
31 E. Parmenter Street, 2013
56 Clark Street, 2015
152 Ann Street, 2017
Unity House
25 Liberty Street, 2000
82 Overlook Place (Unity Kids Project), 2002
35 E. Parmenter Street, 2013
150 Ann Street, 2017